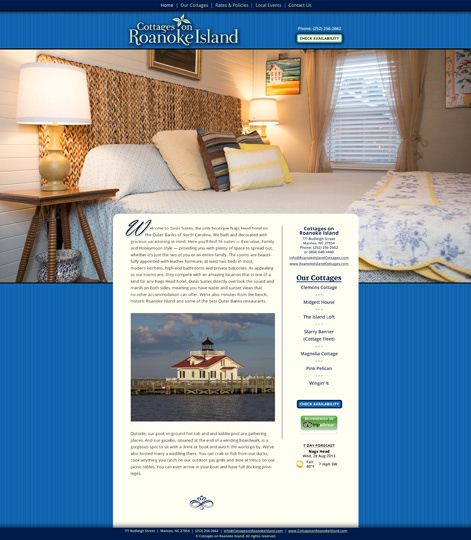 Website designed for Cottages on Roanoke Island, a local company offering a variety of cottage accommodations —
CottagesOnRoanokeIsland.com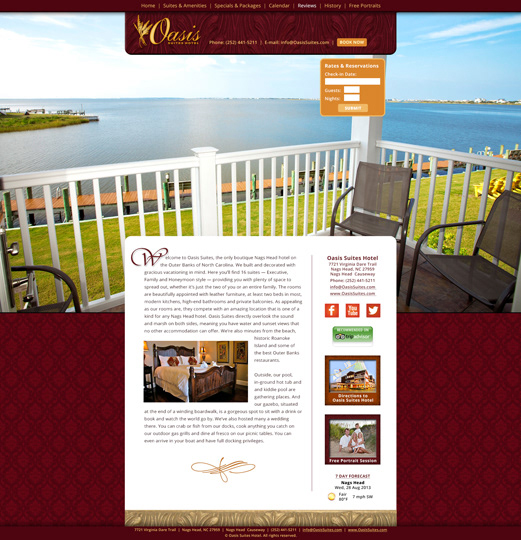 A website design taking its visual cues from the luxurious accommodations and antique decor of Oasis Suites Hotel overlooking the Roanoke Sound —
OasisSuites.com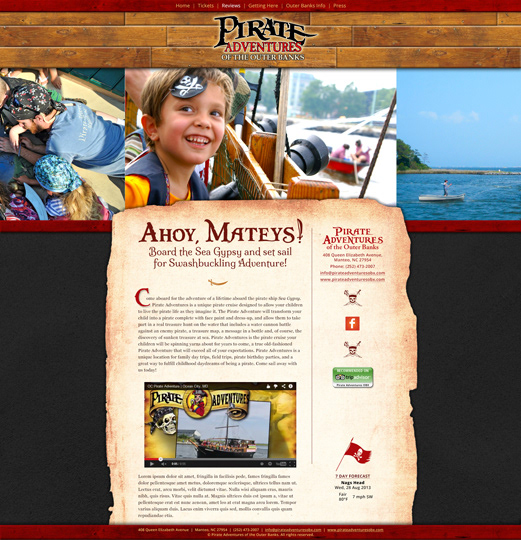 A website originally designed for Pirate Adventures of the Outer Banks (now relocated to Cortez, FL) to capture the fun of their pirate excursions —
PirateAdventuresOfCortez.com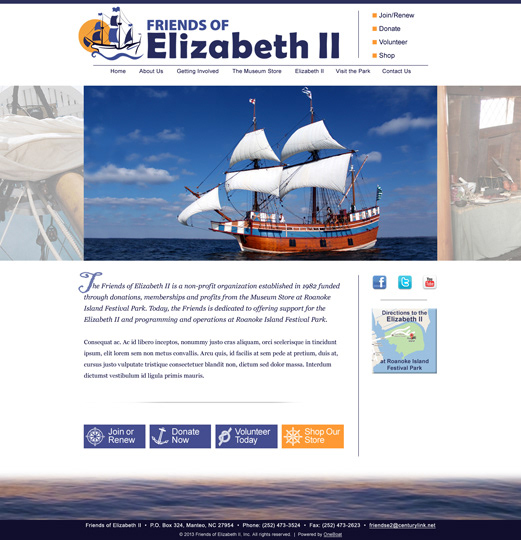 Website for Friends of Elizabeth II, a non-profit organization supporting the education mission of the Elizabeth II, a reproduction of a 16th century English sailing vessel —
FriendsOfElizabeth2.com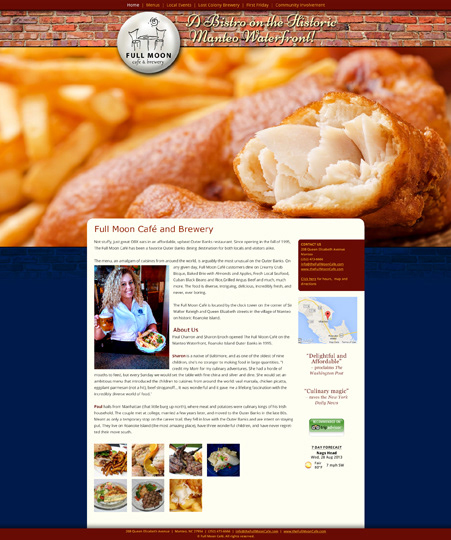 Exposed brick and a deep blue ceiling are part of the bistro atmosphere at The Full Moon Cafe in downtown Manteo and were pulled into this website design as visual references of the cafe experience.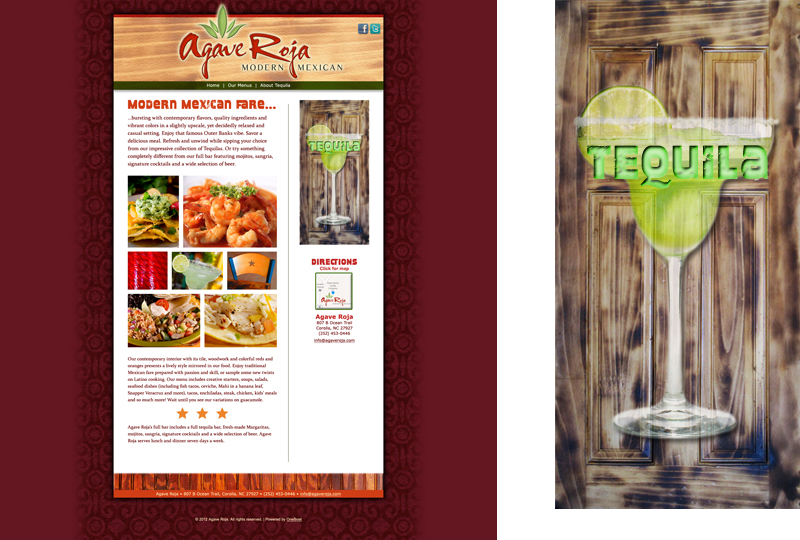 An example of a simple, small format website design template created during my tenure at OuterBanksThisWeek.com and intended to provide an economical web presence for small, start-up businesses. Though a small project, Agave Roja's website was one of the more enjoyable sites to design, as I took design cues from interior decor, the food and the colors and graphic traditions of Mexico. 
During a reference photo shoot to gather info on paint colors, decor items, textures and other elements to work into the design, I came across this door upon which one of the owners had been experimenting with a blowtorch in an effort to inject an aged character into what was otherwise a brand new contemporary door. I took the photo sensing it would somehow find a place in the site design and when I returned to the office and was reviewing the images the idea of a Tequila Door suddenly struck me and the Photoshop fun began. Clicking on the Tequila Door leads site visitors from the home page to the About Tequila page where they find information about the types and grades of tequila and the distilling process as well as a menu of Agave Roja's extensive tequila selection. 
The site has since been updated to a new, more modern design.

1587 Restaurant page header for OuterBanksThisWeek.com

Beachside Bistro page header for OuterBanksThisWeek.com

Duck Donuts page header for OuterBanksThisWeek.com

Goombays page header for OuterBanksThisWeek.com

Lost Colony Brewery page header for OuterBanksThisWeek.com

Outer Banks Daredevils page header for OuterBanksThisWeek.com

Nest page header for OuterBanksThisWeek.com

Pirate Adventures of the Outer Banks page header for OuterBanksThisWeek.com

Roanoke Island Festival Park page header for OuterBanksThisWeek.com
Historic Manteo Waterfront page header for OuterBanksThisWeek.com

Treehouse Coffee Co. page header for OuterBanksThisWeek.com