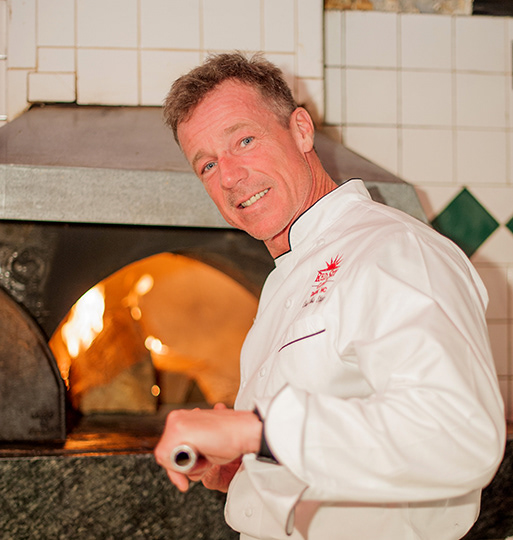 by Michael Lay
It was in late 1993 that meat-and-potatoes America was introduced to a new concept in television — the Food Network. This strange hybrid of cooking how-to and entertainment immediately struck a chord with the nation's fledgling culinary culture that was waiting to be plucked. The network's stable of highly-regarded but relatively unknown chefs became household names — Emeril Lagasse, Bobby Flay, Sara Moulton, Mario Batali — and soon a new phenomenon, the celebrity chef, was born.
If you've been watching recent broadcasts of WAVY-TV10's Hampton Roads Show, you may be aware that the Outer Banks can now claim its own celebrity chef in the person of Chef Wes Stepp of Red Sky Café in Duck. If not, then let this be your introduction.
For more than 10 years Chef Stepp and his crew at Red Sky Café have been attracting Outer Bankers and visitors with fresh, creative dishes featuring the right-off-the-boat seafood and other local ingredients that make the Outer Banks such a fount of good food.
In addition to his skills in the kitchen, it turns out that the chef also is something of a natural at the art of making television. Stepp has mastered the harder-than-it-looks ability to talk and cook simultaneously. Which is important since cooking live on-camera in front of a studio audience presents a number of inherent challenges, from the undersized and very basic studio cooktop to maintaining continuity through commercial breaks to the meager amount of time (usually just 10-15 minutes) dedicated to the cooking segment of the show. Still, Stepp routinely produces three to five dishes per show, noting "I've learned what to cook on-camera and what to stay away from."
In spite of the built-in degree of difficulty, Chef Stepp makes it all look so easy that viewers would be surprised just how unstructured his TV appearances really are.  "I seldom know exactly what I'm going to cook until right before we go live," he admits. "I always have a lot of variety of ingredients in my cooler, but the appearances are completely unscripted. We're winging it!"
A cynic might assume the obvious promotional benefits Chef Stepp and Red Sky Café derive from his TV appearances provide his primary motivation for doing the spots. But that cynic would be completely missing the point. The chef views himself as an ambassador for the Outer Banks and all it has to offer, from the locally-sourced ingredients that make up many of his dishes to the region's unique history and culture. He's a man on a mission and being visible and raising awareness about locally produced and healthy food is an integral part of that mission.
"I want to demystify food," Stepp declares. "I want to make what seems to be gourmet food more approachable. When people watch me prepare and present a dish in three minutes on TV, I want them to say to themselves 'Wow! That's beautiful and he didn't spend eight hours doing it!' "