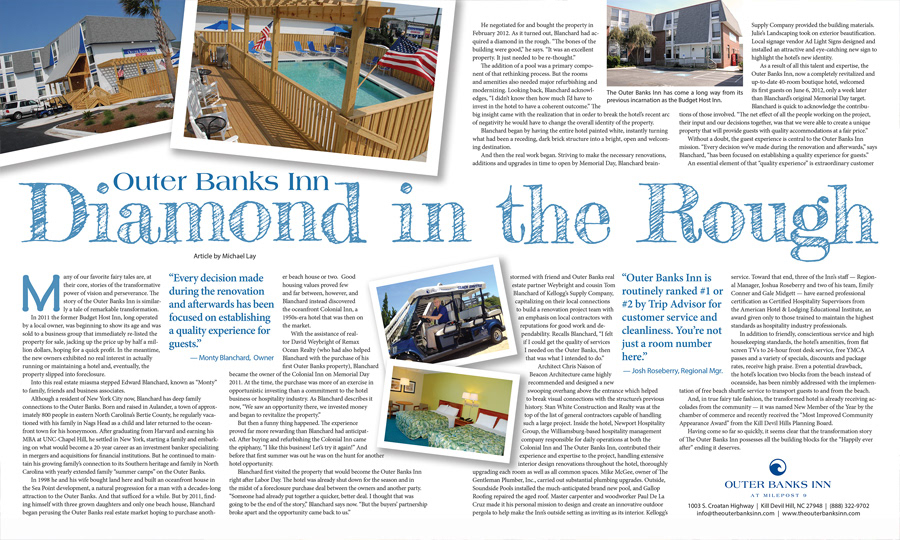 by Michael Lay
Many of our favorite fairy tales are, at their core, stories of the transformative power of vision and perseverance. The story of the Outer Banks Inn is similarly a tale of remarkable transformation.

In 2011 the former Budget Host Inn, long operated by a local owner, was beginning to show it's age and was sold to a business group that immediately jacked the price up by half a million dollars and re-listed the property hoping for a quick profit. In the meantime, the new owners exhibited no real interest in actually running or maintaining a hotel and, eventually, the property slipped into foreclosure. 

Into his real estate miasma stepped Edward Blanchard, known as "Monty" to family, friends and business associates.

Although a resident of New York City now, Blanchard has deep family connections to the Outer Banks. Born and raised in Aulander, a town of approximately 800 people in eastern North Carolina's Bertie County, he regularly vacationed with his family in Nags Head as a child and later returned to the oceanfront town for his honeymoon.

After graduating from Harvard and earning his MBA at UNC-Chapel Hill, he settled in New York, starting a family and embarking on what would become a very successful 20-year career as an investment banker specializing in mergers and acquisitions for financial institutions. But he continued to maintain his growing family's connection to its southern heritage and family in North Carolina with yearly extended family "summer camps" on the Outer Banks. 

In 1998 he bought land here and built an oceanfront house in the Sea Point development, a natural progression for a man with a decades-long attraction to the Outer Banks. And that sufficed for a while. But by 2011, finding himself with three grown daughters and only one beach house, Blanchard began perusing the Outer Banks real estate market hoping to purchase another beach house or two.  Good housing values proved few and far between, however, and Blanchard instead discovered the oceanfront Colonial Inn, a 1950s-era hotel that was then on the market.

With the assistance of realtor David Weybright of Remax Ocean Realty (who had also helped Blanchard with the purchase of his first Outer Banks property), Blanchard became the owner of the Colonial Inn on Memorial Day 2011. At the time, the purchase was more of an exercise in opportunistic investing than a commitment to the hotel business or hospitality industry. As Blanchard describes it now, "We saw an opportunity there, we invested money and revitalized the property."

But then a funny thing happened. The experience proved far more rewarding than Blanchard had anticipated. After buying and refurbishing the Colonial Inn came the epiphany, "I like this business! Let's try it again!" And before that first summer was out he was on the hunt for another hotel opportunity.

Blanchard first visited the property that would become the Outer Banks Inn right after Labor Day. The hotel was already shut down for the season and in the midst of a foreclosure purchase deal between the owners and another party. "Someone had already put together a quicker, better deal and I thought that was going to be the end of the story," Blanchard says now. "We began by losing the property, but the buyers' partnership broke apart and the opportunity came back to us."

He negotiated for and bought the property in February 2012. As it turned out, Blanchard had acquired a diamond in the rough. "The bones of the building were good," he says. "It was an excellent property. It just needed to be re-thought."

The addition of a pool was a primary component of that rethinking process. But the rooms and amenities also needed major refurbishing and modernizing. Looking back, Blanchard acknowledges, "I didn't know then how much I'd have to invest in the hotel to have a coherent outcome." The big insight came with the realization that in order to break the hotel's recent arc of negativity he would have to change the overall identity of the property. 

Blanchard began by having the entire hotel painted white, instantly turning what had been a receding, dark brick structure into a bright, open and welcoming destination. 

And then the real work began. Striving to make the necessary renovations, additions and upgrades in time to open by Memorial Day, Blanchard brainstormed with friend and Outer Banks real estate partner Weybright and cousin Tom Blanchard of Kellogg's Supply Company, capitalizing on their local connections to build a renovation project team with an emphasis on local contractors with reputations for good work and dependability. Recalls Blanchard, "I felt if I could get the quality of services I needed on the Outer Banks, then that was what I intended to do."

Architect Chris Naison of Beacon Architecture came highly recommended. Stan White Construction and Realty was at the top of the list of general contractors capable of handling such a large project. Inside the hotel, Newport Hospitality Group, the management company responsible for daily operations at Outer Banks Inn, contributed their experience and expertise to the project, handling extensive interior design renovations throughout the hotel, thoroughly upgrading each room as well as all common spaces. Gentleman George Plumbing carried out substantial plumbing upgrades. Outside, Soundside Pools installed the much anticipated brand new pool and Gallop Roofing replaced the aged roof. A new swooping overhang above the entrance helped to break visual connections with the structure's previous history. Master carpenter and woodworker Paul de le Cruz took on as his personal mission the design and creation of an innovative outdoor pergola to help make the Inn's outside setting as inviting as its interior. Kellogg's Supply Company provided the building materials. Julie's Landscaping took on exterior beautification. Local signage vendor Adlight Signs designed and installed an attractive and eyecatching new sign to meet Kill Devil Hills stringent zoning requirements.

As a result of all this talent and expertise, the Outer Banks Inn, now a completely revitalized and up-to-date 40-room boutique hotel, welcomed its first guests on June 6, 2012, only a week beyond Blanchard's original Memorial Day target. Blanchard is quick it acknowledge the contributions of those involved. "The net effect of all the people working on the project, their input and our decisions together, was that we were able to create a unique property that will provide guests with quality accommodations at a fair price."

Without a doubt, the guest experience is central to the Outer Banks Inn mission. "Every decision we've made during the renovation and afterwards," says Blanchard, "has been focused on establishing a quality experience for guests."

An essential element of that "quality experience" is extraordinary customer service. Toward that end, three of the Inn's staff — Regional Manager, Joshua Roseberry; Office Manager, Emily Conner; Front Desk Manager, Gale Midgett — have earned professional certification as Certified Hospitality Supervisors from the American Hotel & Lodging Educational Institute, an award given only to those trained to maintain the highest standards as hospitality industry professionals. "You're not just a room number at Outer Banks Inn," says Roseberry.

Proof of success comes in the form of guest feedback — Outer Banks Inn is routinely ranked #1 in the market by Trip Advisor for its customer service and cleanliness. 

In addition to friendly, conscientious service and high housekeeping standards, the hotel's amenities, from flat screen TVs to 24-hour front desk service, free YMCA passes and a variety of specials, discounts and package rates, receive high praise. Even a potential drawback, the hotel's location one block from the beach instead of oceanside, has been nimbly addressed with the implementation of free beach shuttle service to transport guests to and from the beach.

Another asset to guests is the hotel's central Kill Devil Hills location adjacent to the Bypass. Myriad dining and shopping opportunities are within easy walking distance. Numerous attractions, from the Wright Brothers Memorial to Bodie Island Lighthouse and Roanoke Island's North Carolina Aquarium, Roanoke Island Festival Park, The Elizabethan Gardens and The Lost Colony, are only minutes away.

The Outer Banks Inn was quick to become active in the local business community, joining with the Outer Banks Chamber of Commerce and the Outer Banks Visitors Bureau and partnering with other local organizations and businesses to sponsor Outer Banks Sporting Events races, Theatre of Dare, the Outer Banks Bluegrass Festival and Outer Banks Wedding Association events. And, in true fairy tale fashion, the transformed hotel is already receiving accolades from the community — it was named New Member of the Year by the chamber of commerce and recently was designated the "Most Improved Property" by the Kill Devil Hills Planning Board.

Both Blanchard and manager Roseberry are aware there is still much to do to ensure success. As an independent hotel lacking the advantages of a national chain's marketing presence, the Outer Banks Inn is making innovative use of social media to expand its niche. "We're still building our audience," Blanchard says. "But I'm very happy with the capable, dedicated staff we've brought together and the work we've done so far."

Having come so far so quickly, it seems clear that the transformation story of the Outer Banks Inn possesses all the building blocks for the "Happily ever after" ending it deserves.