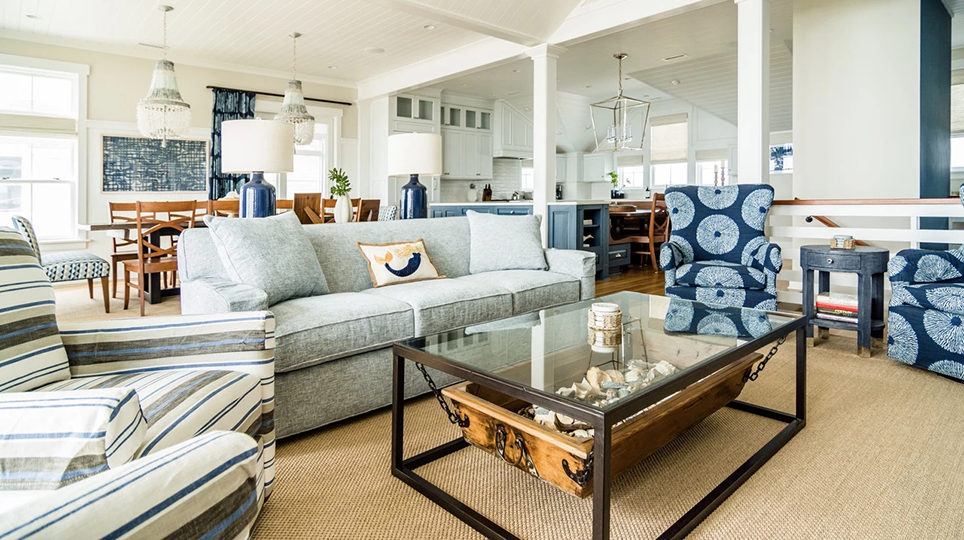 Urban Cottage has been improving the living spaces of Outer Banks residents and visitors for 16 years, at first mostly through sales of furnishings and home décor items in its highly successful retail operation, before increasing the emphasis on its interior design services in 2005. Since then, owner Amy Crisler and the Urban Cottage staff have worked on a variety of homes, from simple one room redos to large scale investment properties. Today, the interior design business is booming.
"We do a lot of interior design for new construction," Amy explains. "We become involved during the initial planning stages of the construction process, working alongside the clients, architects and builders to offer an extensive list of services, from flooring, lighting, paint colors, furniture selection, window treatments and overall décor recommendations. We look at the big picture, making sure the house flows in a manner appropriate to how it will be used."
A clear indication of the quality of work provided by the Urban Cottage team is the fact that a significant portion of new interior design projects comes through word-of-mouth recommendations by previous clients and referrals from local builders and architects who've worked with the firm. Other clients come directly from the positive experiences they've had with the retail branch of the business. Amy explains, "Our sales staff is quite knowledgeable about design and décor, and they are happy to help customers identify items that will be a great fit for their home and their lifestyle."
Folks looking forward to the holidays will want to mark their calendars for Urban Cottage's upcoming Holiday Open House scheduled for Columbus Day weekend (Oct. 9-11) and featuring the introduction of new holiday and seasonal décor. Thanksgiving, after all, is just around the corner!