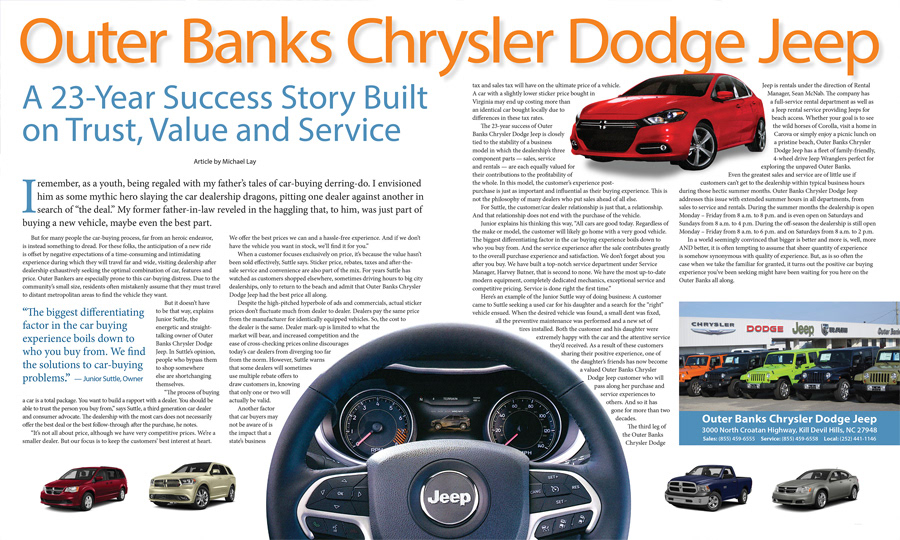 I remember, as a youth, being regaled with my father's tales of car-buying derring-do. I envisioned him as some mythic hero slaying the car dealership dragons, pitting one dealer against another in search of "the deal." My former father-in-law reveled in the haggling that, to him, was just part of buying a new vehicle, maybe even the best part.
But for many people the car-buying process, far from an heroic endeavor, is instead something to dread. For these folks, the anticipation of a new ride is offset by negative expectations of a time-consuming and intimidating experience during which they will travel far and wide, visiting dealership after dealership exhaustively seeking the optimal combination of car, features and price. Outer Bankers are especially prone to this car-buying distress. Due to the community's small size, residents often mistakenly assume that they must travel to distant metropolitan areas to find the vehicle they want.
But it doesn't have to be that way, explains Junior Suttle, the energetic and straight-talking owner of Outer Banks Chrysler Dodge Jeep. In Suttle's opinion, people who bypass them to shop somewhere else are shortchanging themselves.
"The process of buying a car is a total package. You want to build a rapport with a dealer. You should be able to trust the person you buy from," says Suttle, a third generation car dealer. The dealership with the most cars does not necessarily offer the best deal or the best follow-through after the purchase, he notes.
"It's not all about price, although we have very competitive prices. We're a smaller dealer. But our focus is to keep the customers' best interest at heart. We offer the best prices we can and a hassle-free experience. And if we don't have the vehicle you want in stock, we'll find it for you."
When a customer focuses exclusively on price, it's because the value hasn't been sold effectively, Suttle says. Sticker price, rebates, taxes and after-the-sale service and convenience are also part of the mix. For years Suttle has watched as customers shopped elsewhere, sometimes driving hours to big city dealerships, only to return to the beach and admit that Outer Banks Chrysler Dodge Jeep had the best price all along.
Despite the high-pitched hyperbole of ads and commercials, actual sticker prices don't fluctuate much from dealer to dealer. Dealers pay the same price from the manufacturer for identically equipped vehicles. So, the cost to the dealer is the same. Dealer mark-up is limited to what the market will bear, and increased competition and the ease of cross-checking prices online discourages today's car dealers from diverging too far from the norm. However, Suttle warns that some dealers will sometimes use multiple rebate offers to draw customers in, knowing that only one or two will actually be valid.
Another factor that car buyers may not be aware of is the impact that a state's business tax and sales tax will have on the ultimate price of a vehicle. A car with a slightly lower sticker price bought in Virginia may end up costing more than an identical car bought locally due to differences in these tax rates. 

The 30-year success of Outer Banks Chrysler Dodge Jeep is closely tied to the stability of a business model in which the dealership's three component parts — sales, service and rentals — are each equally valued for their contributions to the profitability of the whole. In this model, the customer's experience post-purchase is just as important and influential as their buying experience. This is not the philosophy of many dealers who put sales ahead of all else.
For Suttle, the customer/car dealer relationship is just that, a relationship. And that relationship does not end with the purchase of the vehicle.
Junior explains his thinking this way, "All cars are good today. Regardless of the make or model, the customer will likely go home with a very good vehicle. The biggest differentiating factor in the car buying experience boils down to who you buy from. And the service experience after the sale contributes greatly to the overall purchase experience and satisfaction. We don't forget about you after you buy. We have built a top-notch service department under Service Manager, Harvey Butner, that is second to none. We have the most up-to-date modern equipment and completely dedicated mechanics."
Here's an example of the Junior Suttle way of doing business: A customer came to Suttle seeking a used car for his daughter and a search for the "right" vehicle ensued. When the desired vehicle was found, a small dent was fixed, all the preventive maintenance was performed and a new set of tires installed. Both the customer and his daughter were extremely happy with the car and the attentive service they'd received. As a result of these customers sharing their positive experience, one of the daughter's friends has now become a valued Outer Banks Chrysler Dodge Jeep customer who will pass along her purchase and service experiences to others. And so it has gone for 30 years.
The third leg of the Outer Banks Chrysler Dodge Jeep is rentals under the direction of Rental Manager, Shawn McNabb. The company has a full-service rental department as well as a Jeep rental service providing Jeeps for beach access. Whether your goal is to see the wild horses of Corolla, visit a home in Carova or simply enjoy a picnic lunch on a pristine beach, Outer Banks Chrysler Dodge Jeep has a fleet of family-friendly, 4-wheel drive Jeep Wranglers perfect for exploring the unpaved Outer Banks.
Even the greatest sales and service are of little use if customers can't get to the dealership within typical business hours during those hectic summer months. Outer Banks Chrysler Dodge Jeep addresses this issue with extended summer hours in all departments, from sales to service and rentals. During the summer months the dealership is open Monday – Friday from 8 a.m. to 8 p.m. and is even open on Saturdays and Sundays from 8 a.m. to 4 p.m. During the off-season the dealership is still open Monday – Friday from 8 a.m. to 6 p.m. and on Saturdays from 8 a.m. to 2 p.m.
In a world seemingly convinced that bigger is better and more is, well, more AND better, it is often tempting to assume that sheer quantity of experience is somehow synonymous with quality of experience. But, as is so often the case when we take the familiar for granted, it turns out the positive car buying experience you've been seeking might have been waiting for you here on the Outer Banks all along.