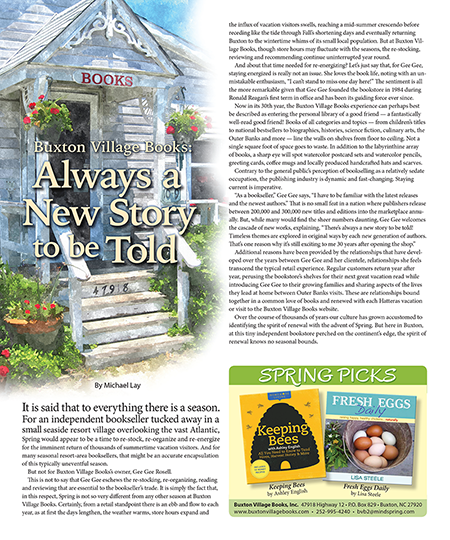 by Michael Lay
It is said that to everything there is a season. For an independent bookseller tucked away in a small seaside resort village overlook
ing the vast Atl
antic, Spring would appear to be a time to re-stock, re-organize and re-energize for the imminent return of thousands of summertime vacation visitors. And for many seasonal resort-area booksellers that might be an accurate encapsulation of this typically uneventful season.
But not for Buxton Village Books owner Gee Gee Rosell.
This is not to say that Gee Gee eschews the re-stocking, re-organizing, reading and reviewing that are essential to the bookseller's trade. It is simply the fact that, in this respect, Spring is not so very different from any other season at Buxton Village Books. Certainly, from a retail standpoint there is an ebb and flow to each year, as at first the days lengthen, the weather warms, store hours expand and the influx of vacation visitors swells, reaching a mid-summer crescendo before receding like the tide through Fall's shortening days and eventually returning Buxton to the wintertime whims of its small local population. But at Buxton Village Books, though store hours may fluctuate with the seasons, the re-stocking, reviewing and recommending continue uninterrupted year round.
And about that time needed for re-energizing? Let's just say that, for Gee Gee, staying energized is really not an issue. She loves the book life, noting with an unmistakable enthusiasm, "I can't stand to miss one day here!" The sentiment is all the more remarkable given that Gee Gee founded the bookstore in 1984 during Ronald Reagan's first term in office and has been its guiding force ever since.
Now in its 30th year, the Buxton Village Books experience can perhaps best be described as entering the personal library of a good friend — a fantastically well-read good friend! Books of all categories and topics — from children's titles to national bestsellers to biographies, histories, science fiction, culinary arts, the Outer Banks and more — line the walls on shelves from floor to ceiling. Not a single square foot of space goes to waste. In addition to the labyrinthine array of books, a sharp eye will spot watercolor postcard sets and watercolor pencils, greeting cards, coffee mugs and locally-produced handcrafted hats and scarves. Contrary to the general public's perception of bookselling as a relatively sedate occupation, the publishing industry is dynamic and fast-changing. Staying current is imperative.
"As a bookseller," Gee Gee says, "I have to be familiar with the latest releases and who the newest authors are." That is no small feat in a nation where publishers release between 200,000 and 300,000 new titles and editions into the marketplace annually. But, while many would find the sheer numbers daunting, Gee Gee welcomes the cascade of new works, explaining, "There's always a new story to be told! Timeless themes are explored in original ways by each new generation of authors. That's one reason why it's still exciting to me 30 years after opening the shop."
Additional reasons have been provided by the relationships that have developed over the years between Gee Gee and her clientele, relationships she feels transcend the typical retail experience. Regular customers return year after year, perusing the bookstore's shelves for their next great vacation read while introducing Gee Gee to their growing families and sharing aspects of the lives they lead at home between Outer Banks visits. These are relationships bound together in a common love of books and renewed with each Hatteras vacation or visit to the Buxton Village Books website.
Over the course of thousands of years our culture has grown accustomed to identifying the spirit of renewal with the advent of Spring. But here in Buxton, at this tiny independent bookstore perched on the continent's edge, the spirit of renewal knows no seasonal bounds.