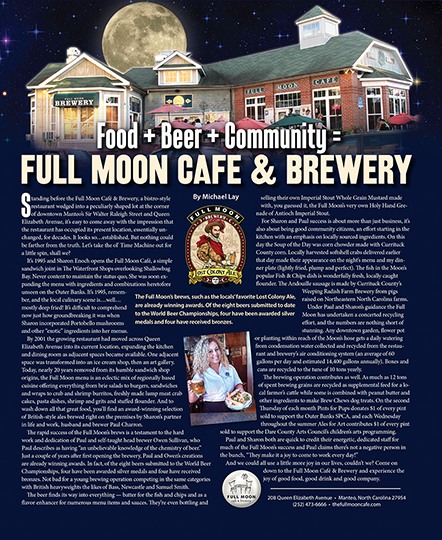 by Michael Lay
Standing before the Full Moon Café & Brewery, a bistro-style restaurant wedged into a peculiarly shaped lot at the corner of downtown Manteo's Sir Walter Raleigh Street and Queen Elizabeth Avenue, it's easy to come away with the impression that the restaurant has occupied its present location, essentially unchanged, for decades. It looks so…established. But nothing could be farther from the truth. Let's take the ol' Time Machine out for a little spin, shall we?

It's 1995 and Sharon Enoch opens the Full Moon Café, a simple sandwich joint in The Waterfront Shops overlooking Shallowbag Bay. Never content to maintain the status quo, Sharon was soon expanding the menu with ingredients and combinations heretofore unseen on the Outer Banks. It's 1995, remember, and the local culinary scene is…well…mostly deep fried! From the vantage point of today's innovative Outer Banks food culture, it's difficult to comprehend just how groundbreaking it was when Sharon incorporated portobello mushrooms and other "exotic" ingredients into her menus.

By 2001 the growing restaurant had moved across Queen Elizabeth Avenue into its current location, expanding the kitchen and dining room as adjacent spaces became available. One adjacent space was transformed into an ice cream shop, then an art gallery. Today, nearly 20 years removed from its humble sandwich shop origins, the Full Moon menu is an eclectic mix of regionally based cuisine offering everything from brie salads to burgers, sandwiches and wraps to crab and shrimp burritos, freshly made lump meat crab cakes, pasta dishes, shrimp and grits and stuffed flounder. And to wash down all that great food, you'll find an award-winning selection of British-style ales brewed right on the premises by Sharon's partner in life and work, husband and brewer Paul Charron.

The rapid success of the Full Moon's brews is a testament to the hard work and dedication of Paul and self-taught head brewer Owen Sullivan, who Paul describes as having "an unbelievable knowledge of the chemistry of beer." Just a couple of years after first opening the brewery, Paul and Owen's creations are already winning awards. In fact, of the eight beers submitted to date to the World Beer Championships, four have been awarded silver medals and four have received bronzes. Not bad for a young brewing operation competing in the same categories with British heavyweights the likes of Bass, Newcastle and Samuel Smith.
The beer finds its way into everything — batter for the fish and chips and as a flavor enhancer for numerous menu items and sauces. They're even bottling and selling their own Imperial Stout Whole Grain Mustard made with, you guessed it, the Full Moon's very own Holy Hand Grenade of Antioch Imperial Stout.

For Sharon and Paul, success is about more than just business, it's also about being good community citizens, an effort starting in the kitchen with an emphasis on locally sourced ingredients. On the day I interviewed Sharon and Paul the Soup of the Day was corn chowder made with Currituck County corn. Locally harvested softshell crabs delivered earlier that day made their appearance on the night's menu and my dinner plate (lightly fried, plump and perfect). The fish in the Moon's popular Fish & Chips dish is wonderfully fresh, locally caught flounder. The andouille sausage they serve is made by Currituck County's Weeping Radish Farm Brewery from pigs raised on Northeastern North Carolina farms.

Under Paul and Sharon's guidance the Full Moon has undertaken a concerted recycling effort, and the numbers are nothing short of stunning. Any downtown garden, flower pot or planting within reach of the Moon's hose gets a daily watering from condensation water collected and recycled from the restaurant and brewery's air conditioning system (an average of 60 gallons per day and estimated 14,400 gallons annually). Boxes and cans are recycled to the tune of 10 tons yearly.

The brewing operation contributes as well. As much as 12 tons of spent brewing grains are recycled as supplemental feed for a local farmer's cattle while some is combined with peanut butter and other ingredients to make Brew Chews dog treats. On the second Thursday of each month Pints for Pups donates $1 of every pint sold to support the Outer Banks SPCA, and each Wednesday throughout the summer Ales for Art contributes $1 of every pint sold to support the Dare County Arts Council's children's arts programming. 

Paul and Sharon both are quick to credit their staff for much of the Full Moon's success. Many of the energetic, dedicated crew have been on staff for years, and Paul claims there's not a negative person in the bunch. "They make it a joy to come to work every day!" And we could all use a little more joy in our lives, now, couldn't we? 

Come to the Full Moon Café & Brewery and experience the joy of good food, good drink and good company.